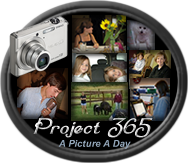 JOINING SARA FOR PROJECT 365...

CLICK EACH PIC FOR A LARGER VIEW
DAY 44, SUNDAY NO PICS
DAY 45, MONDAY
ALWAYS WATER MY 'TRANSPLANTS' FROM THE YARD ON MONDAYS. THEY LOOKED LONELY SO I ADDED MY WHITE ANGEL WITH HIS GOLDEN SASH HOLDING THE LITTLE RABBIT. HE WAS A THRIFT FIND. THE LITTLE PIG-TAILED TODDLER WAS ALSO A FIND.
YOU CAN'T SEE HER LITTLE WINGS IN THIS PICTURE BUT SHE DOES HAVE TWO LITTLE DAINTY ONES ON HER BACK. (
I STILL NEED TO CHECK THIS ONE ON LINE...SHE HAS MARKINGS, AND I BELIEVE SHE MAY HAVE BEEN MADE IN THE 40'S)
THEY ARE NOW ENJOYING SITTING WITH THE PLANTS. THIS MAKES THE 4TH TIME MY HIBISCUS HAS BLOOMED SINCE I BROUGHT IT IN FROM THE COLD..THEY'RE SURELY LIKING THE SUN COMING IN FROM THE WEST
CLICK EACH PIC FOR A LARGER VIEW
NOT MY NORMAL DAY FOR THRIFTING BUT I FOUND MYSELF ON THAT SIDE OF TOWN AND IT WAS TOO HARD TO RESIST.
THE SHOES WERE TOO WELL PRICED TO PASS UP, ONE PAIR ITALIAN LEATHER THE OTHER PAIR ETIENNE AIGNER'S.
I ALSO FOUND BLOUSES, ENOUGH TO HAVE TO DO ANOTHER LOAD OF LAUNDRY WHEN I GOT HOME...IT WAS WORTH IT...I GOT EACH OF THEM FOR $2
CLICK EACH PIC FOR A LARGER VIEW
DAY 47, WEDNESDAY
STARTED CROCHETING A NEW SHAWL FROM MY 'REMNANTS' BAG. FINISHED IT ON SATURDAY...JUST A FEW ENDS TO TUCK HERE AND THERE. IT WAS QUICK USING DOUBLE STRANDS OF YARN AND A SIZE 'Q' NEEDLE.
CLICK EACH PIC FOR A LARGER VIEW
DAY 50, SATURDAY
WOKE AT 6:30AM THIS MORNING HAVING FALLEN ASLEEP ON THE COUCH. I WAS NOT ABOUT TO GET UP FOR THE DAY, SO I STARTED UPSTAIRS TO THE BEDROOM.
HAD TO CAPTURE A QUICK PIC OF MR. MOON STILL HANGING AROUND AS THE SUN WAS COMING UP...
CLICK EACH PIC FOR A LARGER VIEW
COME JOIN US; I'D LOVE TO SEE YOUR PICS, TOO...JUST LEAVE ME A MESSAGE.
P.S. YOU'VE STILL GOT TIME TO SIGN UP FOR MY GIVEAWAY...I'LL BE DRAWING AFTER CHURCH.
Don't forget to leave a comment for a chance @ my
giveaway here...
Blessings,