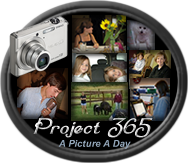 Joining Sarah..
I haven't taken many pictures this week but I did finally get my last coat of paint on my 'thrift' $5 trunk (that used to have blue background with five white ducks)...
Several weeks ago I started this project...and with all the humidity we've been having, I never could get it finished.
While using all the spray paint, I had to be outside for this task. Here it is with the final coat of textured paint. (I had previously painted the brass edges to a nice flat black and had taped over it after it had dried a couple of days.)
.
After lots of careful pulling of the painter's tape, I revealed the black edging and its new paint...the flash in the previous picture washed out the color, even though I had "enhanced the shot".
I bought a clearance hibiscus-pattern stencil several weeks ago and used a sharpy to fill it in...I did NOT want to have to get all my paints out again.
Once the Sharpie dried, it was ready...not too bad.
It took a couple more cans of spray paint to cover the ducks but I'm very happy with it...and my afghans probably like their new home behind our recliner. (I realized when I opened it, I had NOT painted the under-sides of the brass straps...hahaha. Well, they're staying brass b/c I'm NOT taping and spray painting this piece any more!