Oftentimes I see people with dogs and they DO favor.
It's been several years since I had a puppy; but I'm contemplating getting one now that DD is off to college.
As I think back on my little "Murphy"...my peek-a-poo, more peek than poo...he loved sitting in my lap. He'd look up with his happy 'egyptian' eyes (like Cleopatra, with the black eyeliner on top and bottom) and savor any attention. He never lost his puppy fur, he remained wonderfully silken all throughout his 16 years.
Do you favor your doggie in any way?
Have you ever wondered what doggie you'd be...if you were a dog?
Take the following and let me know what you found out you would have been as a PUP! Here's what I would have been, well, kinda: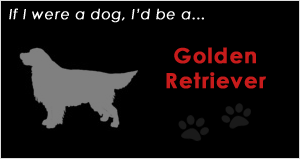 discover your dog breed @ quiz meme
Jer. 33:3
"Call to me and I will answer you
and tell you great and unsearchable things you do not know."
Blessings,