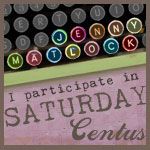 Before you start reading this blog, jump over to MOCHA with LINDA, she's having a 5-book giveaway now.
For this week...my two cents' worth of a story which had to be "Up to 100 words+7 word prompt". Here's my story:
Her 'sisterly lodge' lasted longer than previous jaunts with caribou sisters. Where were they when Roselle was stumbling away from the lights back toward our dense wetlands?

Our calves had woken crying, "mahhh, mahhh!"

Me found Roselle propped up in Farmer Johannsen's green apple tree, the one just inside his dilapidated, standing-open back gate (the one missed during this year's perusal).

Praise be...Roselles' big head caught a branch or'n else she would've knocked me sideways when I rousingly bit her into consciousness. "Good morgnon", "What kinda pizza is this?", she continued mumbling while gingerly peeling her from the fermented fruit's grasp.