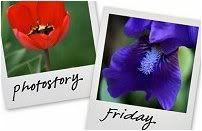 Hosted by Cecily and Sue
To play PhotoStory Friday,
check this
.
My ANGEL TRUMPET BUSHES STARTED BLOOMING on November 6 and they're still blooming! We've had a pleasant lead into November and I'm amazed at the pretty blooms still on my bush in the front yard. One of my prayer partners gave me this bush a couple of years ago :D
IN ADDITION TO MY YARD HAVING COLOR,
my indoor CHRISTMAS CACTUS IS BLOOMING TOO...
IT WAS JUST LITTLE BUDS 13 DAYS AGO, and today it looks like this...
Go, God!!
It sits on my HUTCH JUST IN MY ENTRY WAY, UNDER THE STAIRCASE, so I'm getting to enjoy it each time I walk through the hallway...
Tonight I may move it to my breakfast room table to enjoy it while in the kitchen.
It is soon to be THE SEASON of HIS Birth and I'm enjoying getting to celebrate the entry into the SEASON with my beautiful cactus...
Acts 14:7
"He has shown kindness by giving you rain from heaven and crops in their seasons;
he provides you with plenty of food and fills your hearts with joy."
Blessings,