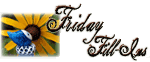 JOINING JANET AND GROUP
CLAUDIA FOR FRIDAY FILL INS for FRIDAY-
FINDING BEAUTY...
1. The lesson I learned yesterday was: "Grown ups" act like teenagers when they get in line to sign
up for something...the line was more horizontal than perpendicular and it took FOREVER to finally SIGN the sheet to help with SENIOR WEEK.

2.

Dreaming of being under the Arbor at our campground in the summertime...
where friends

3. All these years
of being in my house are adding up to lots of money having to be spent
now on upgrades, repairs and newer items that won't last as long
.

4.

H
aving to stand in line so long made me late
to our weekly prayer/share, so I quickly joined in after finding the ladies discussing their week
when I arrived.

5. The truth is GOD IS ALWAYS SPEAKING TO US--WE'RE JUST NOT BEING QUIET AND
STILL LONG ENOUGH TO HEAR HIM
.

6. 'FOUND BEAUTY IN' REMEMBERING
THE LOOK ON DD'S FACE
YESTERDAY WHILE ANNOUNCING HER ACHIEVING "HONOR GRADUATE"--AND NOT HAVING TO TAKE FINALS IN ANY OF HER CLASSES...PRICELESS...THAT is what I remember most from that day.

7. And as for the weekend, tonight I'm looking forward to
WORKING ON MY KNITTING PROJECT
, tomorrow my plans include WRAPPING UP THE PRE-LIT CHRISTMAS TREE AND RETURNING IT TO ITS 'PLACE' IN THE BASEMENT
and Sunday, I want to
BE IN OUR CONTEMPORARY SERVICE TO HEAR OUR SENIOR PASTOR...I'VE BEEN IN YOUTH THE PAST TWO WEEKS AND IT'S MY TURN TO BE FED
!
Jer. 33:3
"Call to me and I will answer you
and tell you great and unsearchable things you do not know."
Blessings,