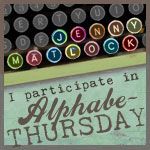 **UPDATE: PRAYERS for those affected in the Mass. tornadoes in Springfield
Good morning class. Joining JENNY for the 1st time @ Alphabe-Thursday! Today she has us studying the glorious letter:
and of course, when I think G...
I think..... GOODWILL
giving to GOODWILL
buying from GOODWILL
It helps me clean out my home, gain some tax benefit and then find 'who knows what' at very reasonable prices (that will help the workers in the store). This little chest used to have a Mama Duck followed by three ducklings walking across a blue background...but I saw it as the future home of my den throws.
Many of my thrifting finds have been from Goodwill as well as local thrift stores and antique shops. Finding valuable things that I'm sure someone must have given away by mistake...like the china pieces and silver accessories.
Looking for those 'special' marks can be quite a challenge, they're sometimes in hidden places or under the tarnish...
sometimes I just HAVE to take a chance.
Blessings,
Jer. 33:3 "Call to me and I will answer you and tell you great and unsearchable things you do not know."