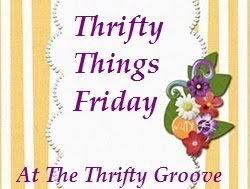 THRIFTING on Monday was fun again as I browsed the aisles to see what might be new.
're-usable' is a better word...one man's trash/treasure thing, you know?
Most of the time these wouldn't excite very many people but I had a "mess" at my house, and these would help with it.
The size 4X didn't excite me...but because there were 4 pair, it made it a REALLY good deal.
AND it was HALF PRICE day! These cost a roaring $1.50
There was another thing planned for these puppies
it would NOT involve their EVER going over my legs, thank goodness.
(horrendous memories flooded over me as I remembered growing up in an 'un-airconditioned' home in the Deep South with all its humidity while trying to dress for Sunday church. Let's just say if we didn't have an extra large bottle of baby powder on hand when I was a youngster, we might not ever have gotten our clothes on, especially pantyhose.)
Thank you, Lord, I am soooo thankful for air in churches and our contemporary services that don't require pantyhose, dresses and white gloves.
'What in the world' is this woman going to do and why is there suddenly a picture of onions and potatoes?
Note the onion skins lying on the countertop
Oops, I almost forgot I also needed these to help with this 're-purposing'...
Step 1: Where the top of the pantyhose leg meets 'panty' portion of the hose, cut off each leg. You'll now have 2 long stockings.
Step 2: Now, hold open one leg and drop an onion down into the leg until it reaches the foot.
you'll be amazed how quickly and easily it will slide down the leg.
Pull the hosiery around and tie a knot firmly up against the onion
Repeat with all your onions.
Each onion will now get PLENTY of air flow and won't rot because it is leaning up against another onion or in a container.
At the top of the leg, I knotted the remainder around the wire rack in my pantry so the onions would hange freely and be easily accessible.

To prevent them from 'flapping in the breeze' against the door each time it is opened, I attached one of the sections with a bulldog clip to another edge of the rack half way down the leg .
WALLAH!
Now I can 'cut off the bottom onion when I need to cook, and the others will stay separated and won't drop all their messy skin on my kitchen counter each time I pick up an onion.
(My Mom actually hangs these in her basement and she's been known to have vidalia onions for months on end)
WHAT re-purposing having you been up to this week?
Blessings,