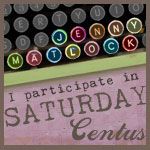 So...Jenny has done some vicious word slashing this week. She's given us instruction to use only twenty-five words to express ourselves about the following prompt:

So I will try to regale everyone with my writing...not gonna call it a skill yet.
Dear Meany Pause,
Invading our core without asking permission
Literally 'boiling' up massive contention
Continual rude demanding, immensely vain
Send now "the end!"
Jer. 33:3 "Call to me and I will answer you and tell you great and unsearchable things you do not know."
Blessings,