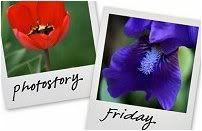 Hosted by Cecily and MamaGeek
Joining Cecily @ MY CHAOS MY BLISS for PHOTO STORY FRIDAY

It's been a long time since there was color in my yard...and my backyard azalea has reached new hights this year...it's hard to believe this was once in a 6-inch pot (it was a gift friends gave us the day after our daughter came home from the hospital after her birth!...17 years ago)

Look who came to visit while I was shooting...there are other pictures; however, I loved this one because of the puffs of pollen being shaken from his legs as he takes off from the flower!


Our butterfly bush is beginning to sprout after it's "buzz" cut from the winter...it had been a couple of years since we pruned it.
There was no doubt it had been pruned this time around, and I was a little concerned it might have been too harsh a cut. It usually doesn't bloom until we get above 80*, so we'll keep our eyes peeled for buds in another month or so.
These are my "Jill" amaryllis...
the name has nothing to do with their "scientific" identification; they're named after my best friend Jill Gottfriedson who succumbed to pancreatic cancer at the age of 33 (when I was 8 mos. pregnant with my baby...but Jilly knew she was going to be a girl, and I didn't!).
Jill, I miss you so much but think of you every time my "Jills" come for their yearly visit :)

These are some of the drought-resistent ground cover we bought about 5 years ago to help keep our front island from washing away down the hill...it's working! Does anyone know the name of these beauties??


Finally, here are my ROSES! I know, I've never had this many roses from this bush. She's producing gangbusters since the pruning she got back in February...I'm so glad I got it right this time and pray she'll continue throughout the summer.
Go, God! Thanks for the beautiful colors in our yard this Spring...you're such a wonderful Master Designer!

CLICK ON THE BUTTON IF YOU WANT TO SEE OTHER FILL INS!
1. The first rule of working in an office and getting along is to "WORK FOR THE LORD IN ALL YOU DO AND SAY".
2. I really don't like LIVER but I do like clams.
3. When I think of carnivals I think of COTTON CANDY, LITTLE ORANGE TICKETS AND POOR MEN WITH NO FRONT TEETH.
4. The PARROT TULIP is my favorite spring flower.
5. Things on my desk include PAPERS AND PHOTOS NEEDING TO BE FILED, AN ORGANIZER WITH PAPERLIPS/NOTE CARDS AND A "PICTURE OF JESUS KNOCKING AT THE DOOR" THAT USED TO HANG OVER MY GRANDMOTHER'S GUEST BED.
6. Knowing my WEIGHT IS GRADUALLY COMING OFF makes me wanna jump for JOY AND STATE THAT WE CAN DO IT!
7. And as for the weekend, TONIGHT I'M COOKING CHEESEBURGER CASSEROLES, tomorrow DD TAKES THE 'REAL' SAT, my plans include SERVING LUNCH at GAINESVILLE HOMELESS SHELTER and LATER CELEBRATING A CANCER-FREE YEAR WITH ONE OF MY YOUTH COUNSELOR BUDDIES then on Sunday I'LL BE JOINING IN ON OUR SENIOR BANQUET CELEBRATION AT UMYF!
HAPPY WEEKEND...SAY A PRAYER FOR MY GREAT NIECE WHO IS 2 1/2, A CONGENITAL HEART PATIENT AWAITING SURGERY THIS SUMMER. HER PARENTS HAD TO ADMIT HER TO THE CHILDRENS' HOSPITAL DUE TO HER CURRENTLY DEALING WITH A BAD GASTRO VIRUS. SHE'S OUR "MIRACLE KATIE"
:)